All around
Discovery of the Saône aboard the Fantasy-Evasion
The company ATFH offers you; a discovery of the Saône, with pilots and comments
And with or without a driver's license, become your own captain during a ride ..
Departures from the Plaisance river stop in Montmerle-sur-Saône.
All your information and prices on atfh.fr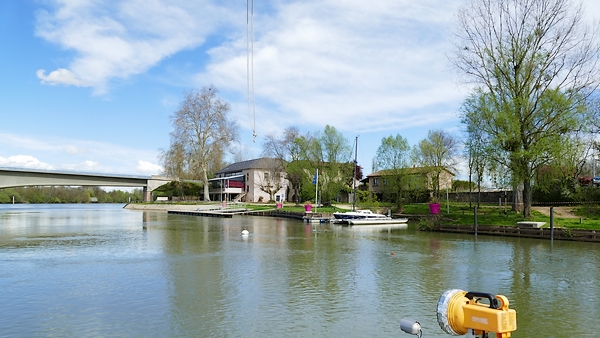 Mâcon Tourist Information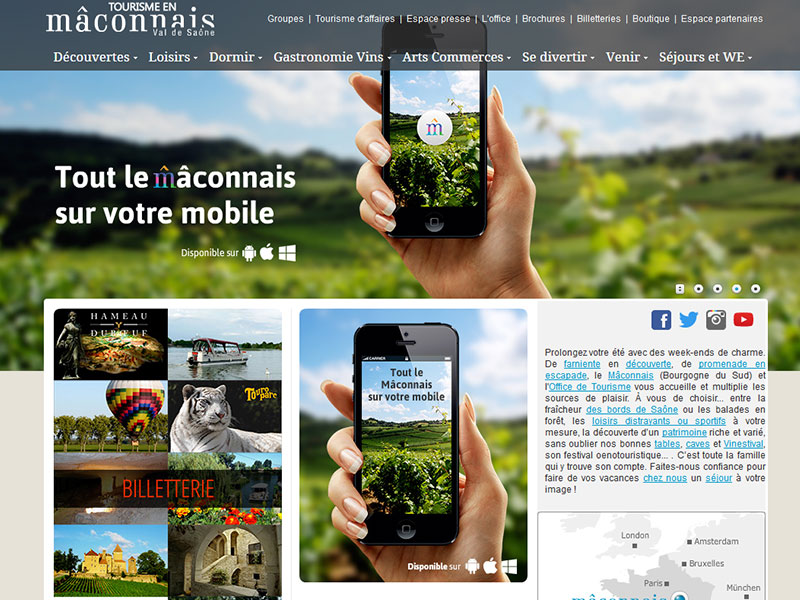 Opening hours
1st of June to 9th of September: Monday to Saturday from 9am to 7pm. Sunday from 10am to 6pm
10th of September to 3rd of November and 1st of April to 31st of May from 9am to 12:30pm and 2pm to 6pm from Monday to Saturday. Closed on Sunday, open the days around public holidays from 10am to 12:30pm and from 2pm to 6pm from Tuesday to Saturday.
4th of November to 30th of March from 9:30am to noon and 2pm to 6pm from Tuesday to Saturday. Closed on Sunday and Monday (except end-of-year holidays on Mondays).
1, place Saint-Pierre 71000 Mâcon
Téléphone : 33 (0)3 85 21 07 07
Web site : www.macon-tourism.com
Golf de la Salle
Overlooking the Saone Valley and drawn in the heart of the Mâconnais vineyard,
the golf is a privileged address for a sweet life. The course's design inspired from the women's body will delight each player.
Adresse : 649 route de Clessé 71260 La Salle
Mail : mail@golfmacon.com
Téléphone : 03 85 36 09 71
Site Web : www.golfmacon.com
Air escargot
Live the feeling of the air pioneers. Burgundy, with its wonderful landscapes is
perfect for this trip. Discover the charming villages and the famous vineyard from a hot-air balloon. We leave our shell in the early morning and in the late afternoon. Air Escargot plans hot-air balloon trips since 1979.
Mail : air-escargot@wanadoo.fr
Téléphone : 03 85 87 12 30
Site Web : www.air-escargot.com
HéliTravaux
Gain height. Discovery flights from Mâcon
Téléphone : 03 85 20 10 21
Site Web : www.helitravaux.com
Club de ski nautique et barefoot
Situated in the marina since several years, we liven it up during summer.

Come and try our disciplines (bi-ski, mono-ski, wakeboard)
Adresse : Port de plaisance, rue Alain Colas 71000 Mâcon
Mail : contact@ski-nautique-macon.com
Téléphone : 06 80 75 19 35
Site Web : www.ski-nautique-macon.com
Cité Abbaye de Cluny
The Great Abbey Built in 910, the abbey of Cluny shine upon all Europe during the Middle Age with its wide church the "Maio Ecclesia". Roman's world highest vaults are still here today to testify of its huge size.
Office de Tourisme de Cluny et du Clunisois
6 Rue Mercière F- 71250 CLUNY
Tél: +33 (0)3 85 59 05 34
Fax: +33 (0)3 85 59 06 95
Site Web : www.cluny-tourisme.com